The Accelerated Mobile Pages (AMP) Project is an open source initiative which claims to improve the mobile user-experience. The implementation of AMP is not easy. There are lots of potential issues which arise after using AMP. Therefore, it's better to disable AMP as soon as possible.
Remove the link rel="amphtml" from the non-amp pages.
Set NOINDEX for AMP pages
Before I jump into technical explanation with exact steps, let me tell you …
Why removing AMP is a great idea?
For a moment, please forget about "Speed is a ranking factor" statement. Only having a fastest mobile site on the Internet with the terrible design is not sufficient for the growth of the blog. As far monetary value and branding concerned, if your blog is not performing well due to AMP, why take the risk?

Imagine if you have 1000 pages, Isn't complicated to ensure that all AMP pages are working properly or not? The Google Search Console display limited information, that's not sufficient for a webmaster to analyze the usability of AMP pages.

AMP increases extra work for a blogger. Not all bloggers are tech-savvy. I had to check each web page. I found somewhere YouTube iframe is not working, no comment form, even some HTML code was not working in my author box, etc. Indeed, AMP forces webmasters to sacrifice a lot.

I consider, using extra plugins as inviting possible bugs, security concern, and conflict with other plugins. So, far I couldn't find any reliable plugin for AMP.

Currently, AMP is not a ranking factor for mobile SERPs. Yeah, it may awesome, mind blowing for a news publisher for ranking under the header so called "Top Stories". But, what's about a new blog? Is it worth to take the risk for AMP?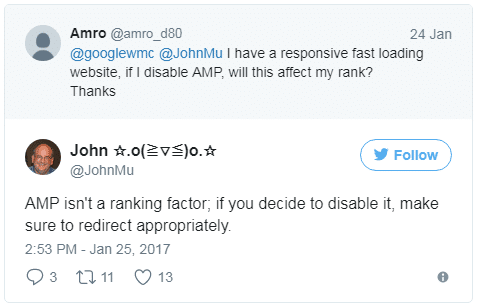 Why I removed AMP from my Blog? – Big Reasons
Just after few days of installing AMP plugin, I had to deal with lots of frustrating issues. So, I was very disappointed and I decided to remove it. Below are few links of notable issues.
Reference: List of problems I faced with AMP for WP plugin
https://wordpress.org/support/topic/facing-redirection-loop-non-slash-to-slash/
https://wordpress.org/support/topic/is-showing-different-in-amp/
https://wordpress.org/support/topic/missing-trailing-slash/
https://twitter.com/TheGulshanKumar/status/827897651282706432
Even, I had to fixed AMP issues page by page as far I could discover –
I noticed that in the AMP, Google AdSense does not perform well.
When you have long content pages, verifying the each web page element is working properly or not become tedious. I was afraid to see that some of my YouTube video iframes were not working. Finally, I fixed it too by adding some required JS, for a moment it was unknown.
How to disable AMP pages for WordPress?
You shouldn't directly deactivate AMP plugin or even try to setup any kind of redirect. Otherwise your organic visitors will see an error page like this.
Concept behind the solution for disabling AMP without error 404
As we know that Googlebot discovers AMP pages using the rel="amphtml" link from the website header.
Fortunately, this markup has nothing to do directly for human visitors. So, we can remove it to tell folks at Google, I mean Googlebot; that we don't have any AMP version of Web Page. Meanwhile Google de-indexes pages, we will temporarily keep serving AMP pages to our visitors by keeping AMP plugin activated.
While the discussion on this hot topic, the main question was in our mind- What if Google considers AMP version pages as duplicate URL for canonical? Of course, it will be because we have removed relation markup. Based on this concept, I highly recommend using NOINDEX for removing AMP pages from Google Search.
To disable AMP pages properly without affecting SEO, all you need to follow major two steps:-
First, remove the link rel="amphtml" output from the non-amp pages.
Set NOINDEX for AMP pages
Interesting isn't it? Let's get into practical details step by step.
Step 1. Remove rel="amphtml" output from the head
Using RegEx, you can match the string and replace it with your desired value (which is blank). I think this is the far easiest for removing rel="amphtml" from WordPress HTML output.
In simple words, with below clever steps, we will scan AMP markup in the HTML pages of WordPress, we will remove it on the fly using Search & Replace via RegEx.
Process
To remove the rel="amphtml" link from the head, head over to these steps.
Install & activate a most useful plugin called Real-Time Find and Replace. This plugin allows you to dynamically (i.e. at the time when a page is generated) replace code and text from themes and other plugins with code and text of your choosing before a page is delivered to a user's browser.


Go to Tools > Real-Time Find and Replace


Check Use Regex
In the Find field, type exactly <link rel="amphtml" href="(.+)" >
In the Replace field, leave it blank.
Update settings. That's all.

We are Thankful to the author, this plugin saves our valuable time.
Step 2. Setup NOINDEX for AMP pages
This is an important step to avoid duplicate content indexing as in the last steps we have removed rel="amphtml" from the website header.
Open AMP for WP plugin settings
Go to SEO
Add below meta code to the head section
<meta name="robots" content="noindex,follow"/>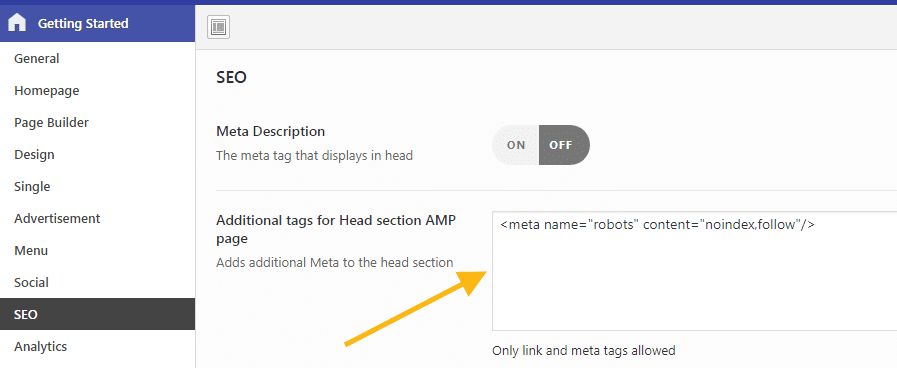 This process will not affect the ranking of your canonical (Non-AMP) pages .
How to Check Noindex status of AMP?
Here's the easy way –
Go to Google.com
Search like https://gulshankumar.net/*/amp/
After following above process, you need to keep your AMP plugin activated till you see 0 indexed AMP pages in the Search.
Things to Do After No-Indexing AMP Pages in Serps
Thanks for reading this article so far. I greatly appreciate your valuable time. If you need any urgent help regarding removal of AMP pages or need a solution for the custom approach. Please feel free to discuss in the comment section. Next moment, I'll be there with you to assist. Thanks!
This method is tested and it worked for me. I am fortunate enough, this guide has been appreciated by the author of Marketing91, The Kinsta Blog and more.
Excellent guide. I'm sure Google make it deliberately hard to move away from their proprietary AMP platform.
This is a simple way to escape. https://t.co/MzlHJBKSuQ

— ꧁Terence Eden꧂ ⏻ (@edent) September 25, 2017
Related
✅ How to disable annoying AMP as a user? 🤔
Use Firefox browser and don't use Google Chrome mobile browser.
✅ How do I prevent showing 404 error for AMP pages in Google SERPs?
You did probably wrong by just deactivating plugin in hope now AMP won't show in Google. That's not a proper way. You need to de-link amphtml tag from the source code and noindex AMP pages.
✅ What are some major reasons I should avoid using Google AMP?
AMP destroy web page design. It increases extra work that you can better invest in other productive things such as writing articles and making money.
✅ Does AMP improve PageSpeed? 🚀
It's better to make page actually faster than relying on some plugin because it can have bug and security issues.
✅ Is AMP a Google Ranking Factor? 📈
Well, Google main job is to display relevant answer to search query. Either you use AMP or not it doesn't matter. John from Google has officially confirmed it's not a ranking factor.
✅ How long Google may take for noindexing all AMP pages?
It may take few week to process noindex request.